Automate Flood Irrigation

Why Farmers and Irrigators Need AutoFlood™ NOW
Farmers and irrigators face huge challenges related to the cost of labor, especially in states like California where new labor laws have increased labor costs dramatically. At the same time, in some areas there are incentives to save precious water.
How AutoFlood Works
AutoFlood retrofits to manually-operated delivery gates. The AutoFlood system senses when water enters an on-farm canal, wakes the system up, controls all the field gates, Pipe and Check-gates, and detects water as it moves down field so AutoFlood can optimize water conservation by virtually eliminating spill into drainage canals.
After AutoFlood irrigates a section of the field, it repeats the irrigation cycle automatically across the field until everything is properly watered. Irrigators can easily monitor and control AutoFlood via cellphone or pc.
AutoFlood
The revolutionary patented* AutoFlood almost eliminates all your labor costs and saves water at the same time. It is now successfully employed in the Imperial Valley with tremendous results.
AutoFlood
Completely automates flood irrigated fields – near ZERO human intervention needed!
Reduces irrigator labor costs 90%
Monitor and control via cell phones
Retrofits to existing pipe (delivery) gate frames
Reduces irrigation spill to near zero – estimated 10% water savings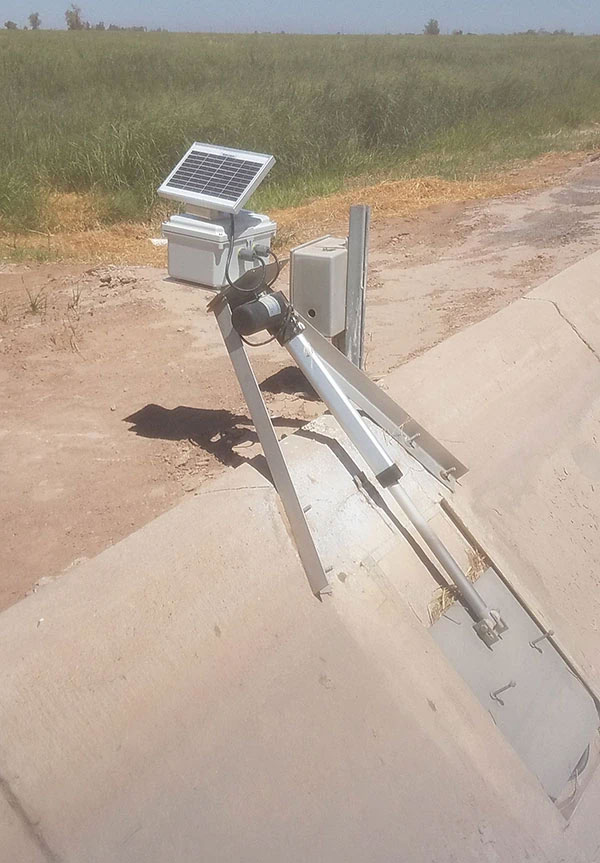 Unattended AutoFlood Operations
Detects water flow into on-farm canal and wakes up AutoFlow Opens and closes pipe (delivery) gates in user defined sequence:
Detects flow down-field to calculate time to complete flooding
Goes to sleep when irrigation is done and waits for water to re-renter canal.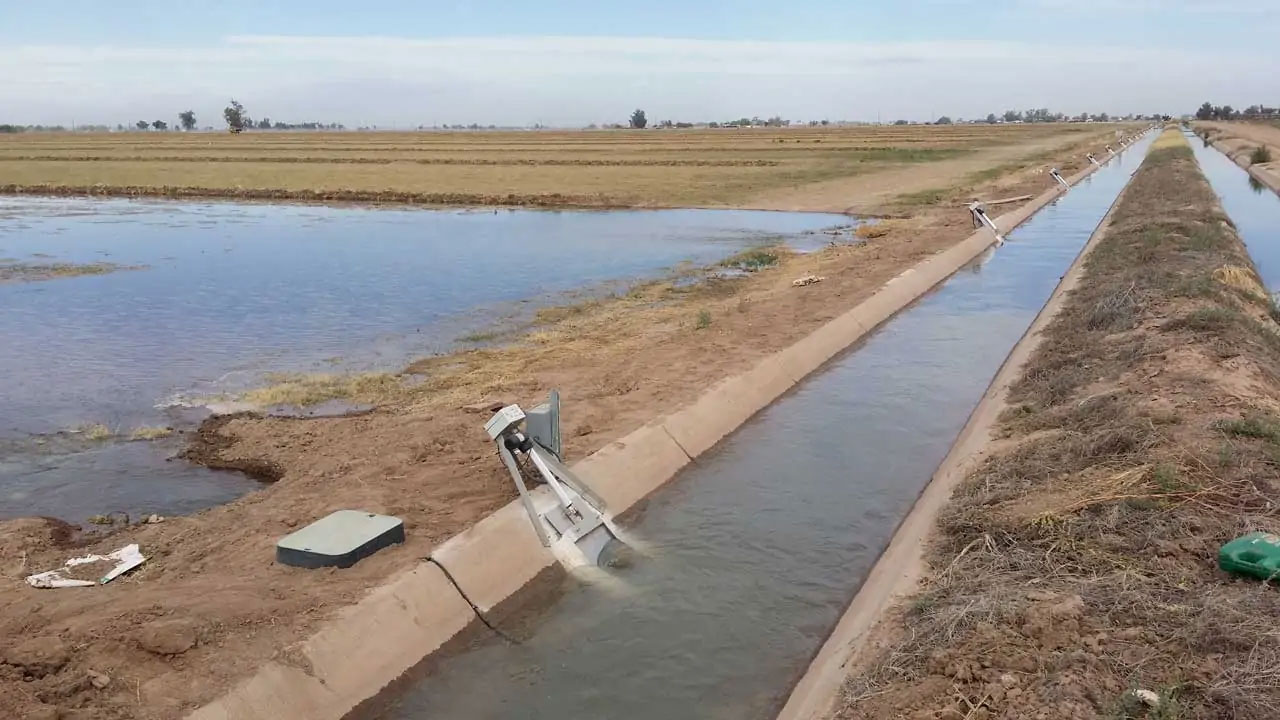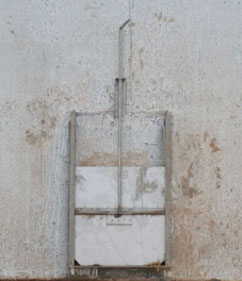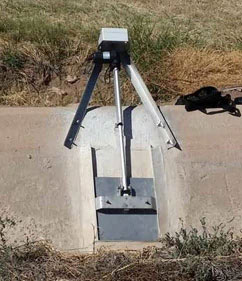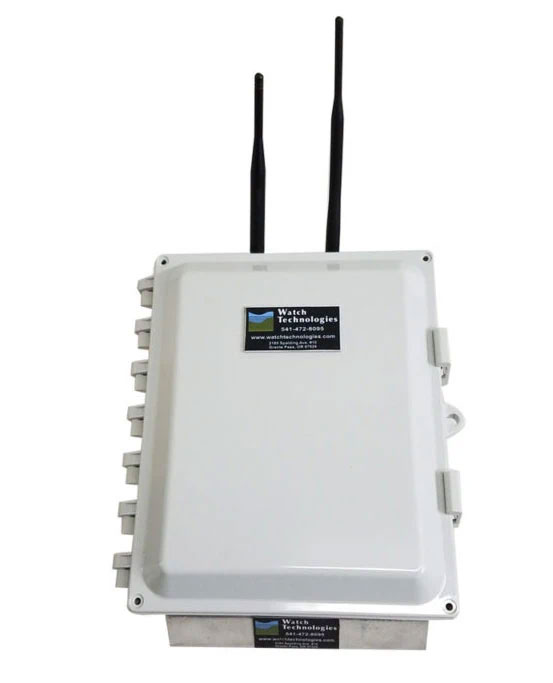 Field Controller (Hub)
Micro-controller manages operations for any number of gates
100 mW 900 MHz spread spectrum radio
UPGRADED NEMA 4X enclosure
Bigger box with 5Amp-hour GSM battery
Lockable box
Box is positioned flat for easier access
Upgraded 2 1/2-Watt solar panel with 360-degree turning capability to optimize solar exposure
Automated Check Gates for On-Farm Canals
Medium-Duty Watch Technologies slide gate
304 Stainless Steel blade and frame
UHMW blade guides and Neoprene sill seal
Heavy-duty 12-Volt linear actuator w/ internal position sensor and limit switches
WT-50 Solar powered gate actuator system in
NEMA 4 enclosure
100 mW 900 MHz spread spectrum radio w/on-board microprocessor
Manual Up/Down switch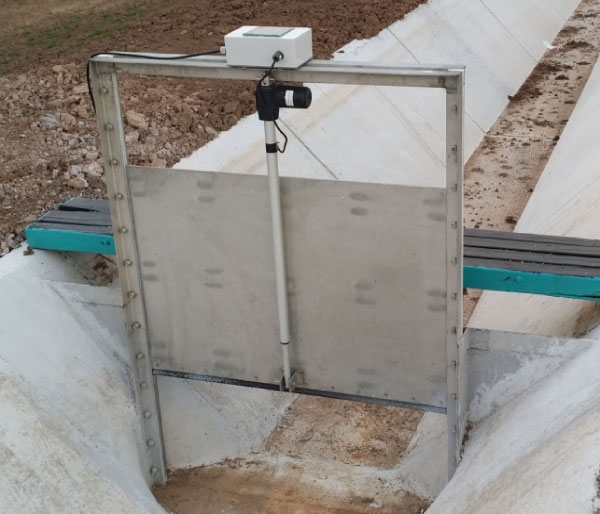 Check-gates are used in on-farm canals to manage proper water level (head) at pipe gates. Typically, Check-gates divide an on-farm canal into sections and are closed and opened as irrigation operations move downstream along the canal to assure sufficient head at the most upstream pipe openings of each segment. AutoFlood also can use the Checks to manage canal level against system intolerable extremes of water level.
Get Started
Call Jack at 541-660-3182 to talk about how AutoFlood can work for your situation or click to fill out our contact form.
987 Coral Drive Pebble Beach, CA 93953